Insulin Bank
Insulin Bank and the National Registry for Type 1 Diabetes Mellitus
The DASL provides less fortunate young persons living with type 1 diabetes [YPLWT1D] with medical consultations, guidance and supplies such as insulin, syringes, home glucose monitoring machines, strips, pens and lancets, monthly, quarterly and annual laboratory tests to assess complications free of charge. NDC's ISO accredited laboratory performs these test free to the needy and at 50% discount to PLWT1D who are able to pay. They also receive psychological and individualized lifestyle counselling free of charge through the Insulin Bank [IB] initiated on World Diabetes Day 14th November 1998.
The main aim of this program is to make the registrants productive members of the society by improving their quality of life by keeping them free from developing life threatening complications. Special programs are conducted to encourage camaraderie, instill confidence that T1D is just another chronic illness, help combat stigma and discrimination, provide guidance on vocational training. Bi annual Day camps and annual residential camps are conducted in leadership training so that they can integrate into society seamlessly.
If you are a PLWT1D, please register with us though you may not require our service.
The National Registry for PLW T1DM is compiled by the DASL after obtaining ethical approval from the Sri Lanka Medical Association in 2014. Numbers have grown to 702 registrants where 300 are registrants who are assessed and receive all their needs monthly.
We are proud to announce the establishment of a robust group of Young Leaders in Diabetes [YLDs] who engage in community service and volunteer their services at all EAS programs conducted by DASL islandwide.
Latest initiative is provision of YLDs with interest free funding to establish small scale "start ups" to strengthen and stabilize their economic status.
DASL and IB registrants are very fortunate to received financial and clinical support from Life for a child programme Australia. We are grateful for the continuous supply of insulin, home glucose monitoring meters, strips, lancets and clinical assistance from diabetic nurse educators and endocrinologist who have assisted in reviewing and improving the management of the T1D registered with us.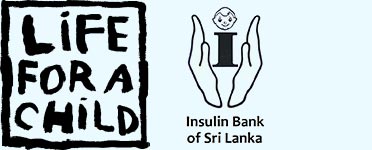 Downloads
Information sheet – English
Information sheet – Sinhala
Information sheet – Tamil
T1DM quenstionnaire – English
T1DM quenstionnaire – Sinhala
T1DM questionnaire – Tamil
Consent Form – English
Consent Form – Sinhala
Consent Form – Tamil